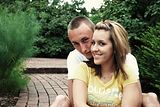 3 Basic Pillars Of A "True Love" Relationship
Every Relationship founded on True Love requires these 3 Basic Factors to Blossom. The absence of one or all of them could mean Death For such Relationship:
1. Time:
For any relationship to succeed the two parties involved must learn to always spend Quality Time Together. This will give room for meaningful discussions and setting of agenda for the future. You have the opportunity to shed bright light on every dark areas of your life (weaknesses and hidden things). the best place to know his/her Likes and Dislikes is the "Talking Place".
2. Truth:
this is the only factor that seals up every access channel of blackmail and suspicion. Learn to tell your partner all Truth and at all times, this will give birth to
3. Trust:
if at the "Talking Place" you are able to tell your partner everything about you and very thing you said about youself happen to be the Truth, then it becomes very easy for Him/Her to Trust you and once Trust has it's way, the True Love Experience begins. It will be very difficult for anyone to come between you both coz you already understood your selves.
Quality Time, Telling The Truth and absolute Trust are the 3 Major Building Bricks of Any "True Love" Relationship
Call them Relationship Boosters and you can never go wrong. Don't stop loving, coz when you stop Loving you start Dying